The Saint Lucia Seventh-day Adventist Academy successfully recognized its first health month program under the theme "Stress Free Health" during May, 2018. The Administration realized the importance of securing the mental health of staff of the Academy; as a result, the health month was formalized. The seeds of this idea were planted as early in 2015 with discussions between Mrs. Naomi Jean, the Academy's Business Manager, and Ms. Christy Butcher, a Public Health Educator. Unfortunately, the program could not have been done in the year 2015 due to the studies of both parties which completed in December 2017. Mrs. Jean reached out t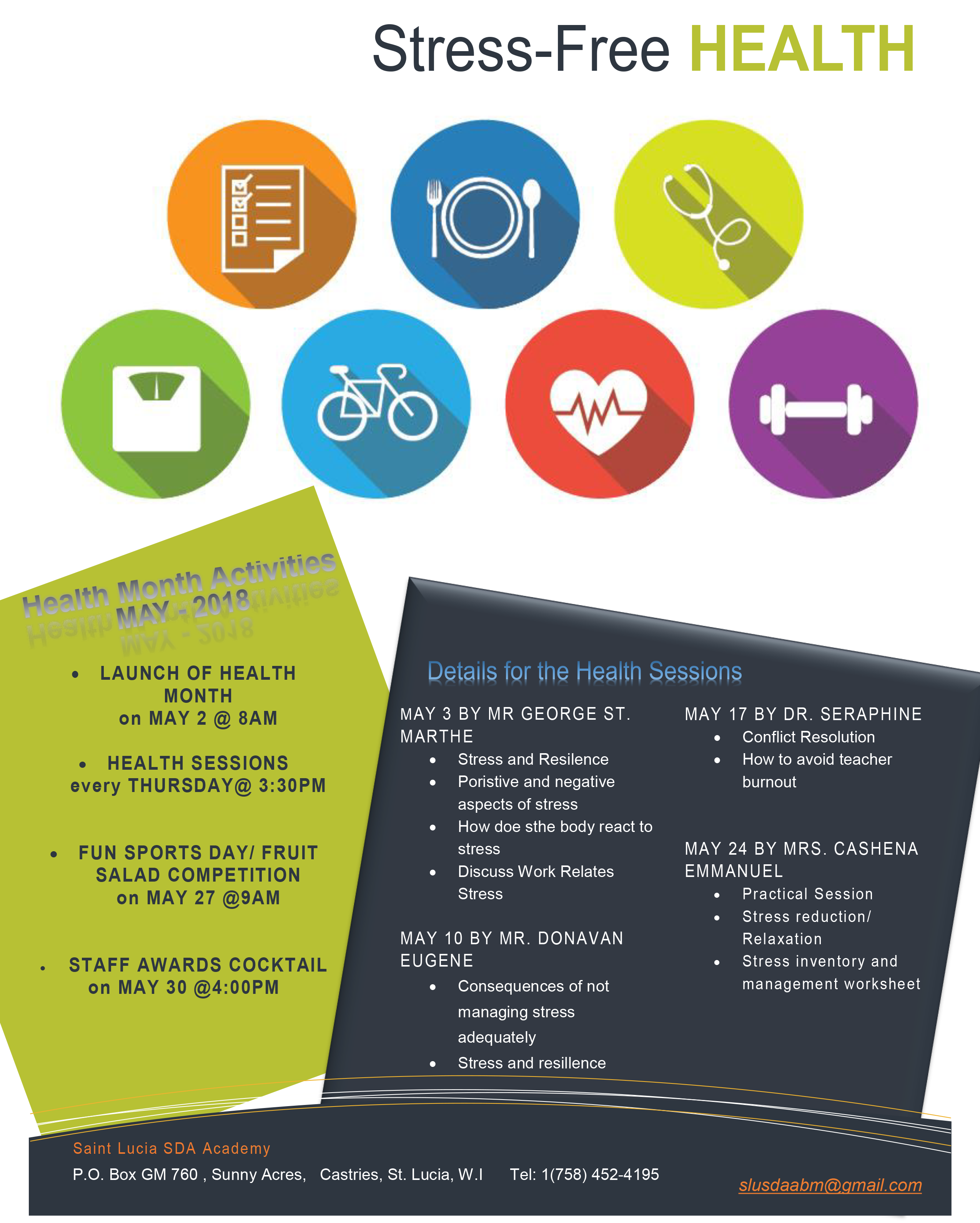 o Ms. Butcher, as well as Mrs. Wellina Jaria, to start planning this grand activity in the beginning of 2018.
The health month was launched on May 2, 2018 with a health fair. At the fair, staff and students had their blood sugar level, pressure, and weight checked. In addition were dental, vision and hearing checks. Visitors to the fair were also given information on screening for breast and prostate cancer.
Following this grand activity, sessions were carried out every Thursday for the entire staff. On May 3, Mr. George St. Marthe presented on stress and resilience. On May 10, Mr. Donavan Eugene discussed the consequences of not managing stress. Dr. Urban Seraphin presented on conflict resolution on May 17 and on May 24, Mrs. Welina Jaria did a practical session on stress management.  The sessions were praised by the staff as much was learnt and discussed.
The health month continued with a Fun-Sports Day and Fruit-Salad competition on May 27 at Vigie Beach. Loyan Alexander – an alumna, led out in exercises for staff emphasizing on stretching and cardiovascular building. After this was the fruit salad competition, with the various departments of the staff forming the teams. The judges – Ms. Butcher and Mrs. Jaria – ultimately named the Science Department the winners, with the Language department and the Auxiliary staff finishing second and third, respectively. The health month culminated with an awards ceremony  on May 30 to award the said, in addition to the water and walking challenges and staff appreciation. Refreshments and musical renditions were prepared to compliment this event. The Administration is planning to make this health month annual and to go bigger each time around.
Written By: Kerdell Samuel
Edited By: Matthew Hunte